---
About us
Library Management System is carefully developed for easy management of any type of library. It's actually a virtual version of a real library. It?s a web based system where you can manage books of different categories, manage users & manage issue/return of books easily.Issuing a book to a member is just a matter of a click.LMS will be an efficient and intelligent companion for managing your library.
Address : Registrar University of Mumbai M.G. Road Fort Mumbai-400032
Phone : 022-6500706 | Fax : 12457890
E-mail : [email protected]
Copyright © 2017-2021 LMS.
All rights reserved.
---
Everything from here is the part of the DOC
All the information required for getting startup and running is given below.Everything is arrange in a stepswise manner for easy understanding of the working of this wesbite
Installing of wordpress:
Download wordpress from : Click Me
Extract the downloaded wordpress.zip file into a folder on your server(if live) / www folder (if on localhost) Eg:library.
Extract the Library v2.0.zip file.in to this location wp-content\themes\
Create a db in PhpMyAdmin Eg:demo_lib
Then Open the link in the browser. Eg: http://localhost/library/
Follow the instruction to install wordpress.
After installing login into system.
Click on Appearance->Themes & Activate the theme.
Installing Procedures Video
Rough Software Walkthrought
Technologies Used To Build This Theme
PHP with Wordpress Framework [Note: Php Version < 7.0]
AngularJs
Jquery
Note For Advance Users: No Custom Post is used here.Why did i not used ? So that everyone with basic knowledge of php can easily digest the code.
Modules Preview
Login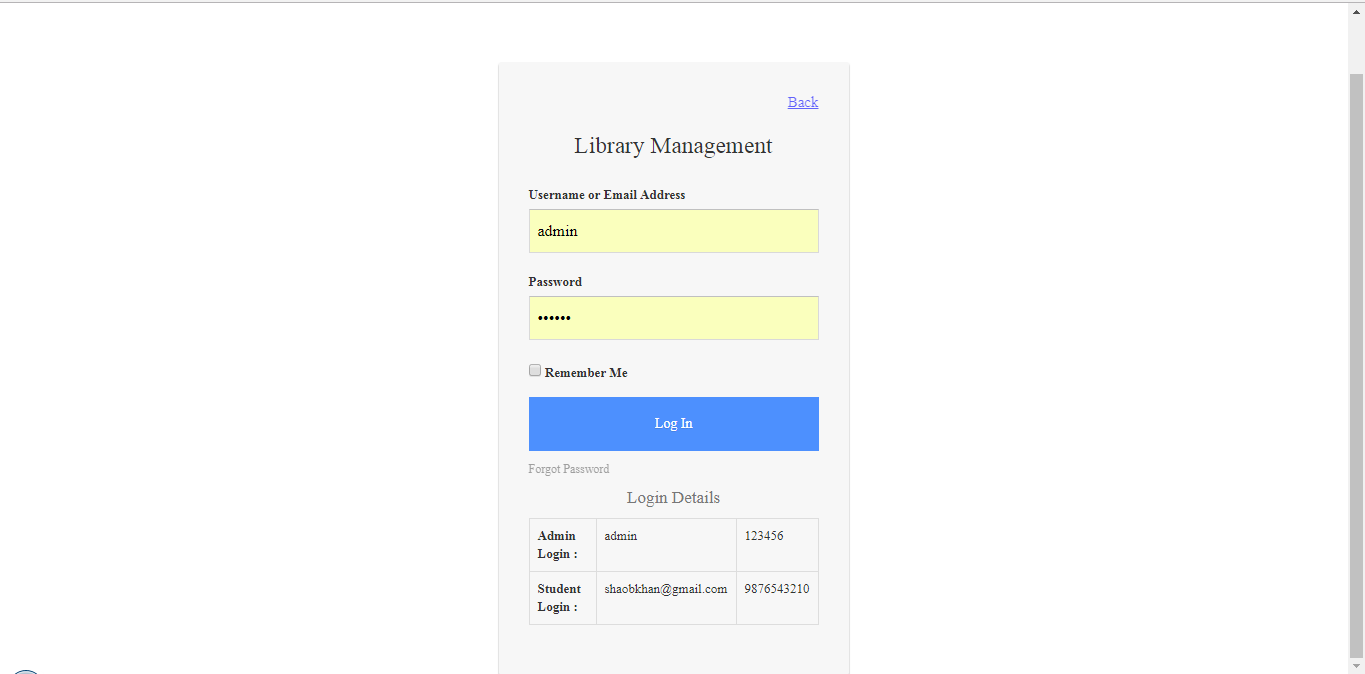 Dashboard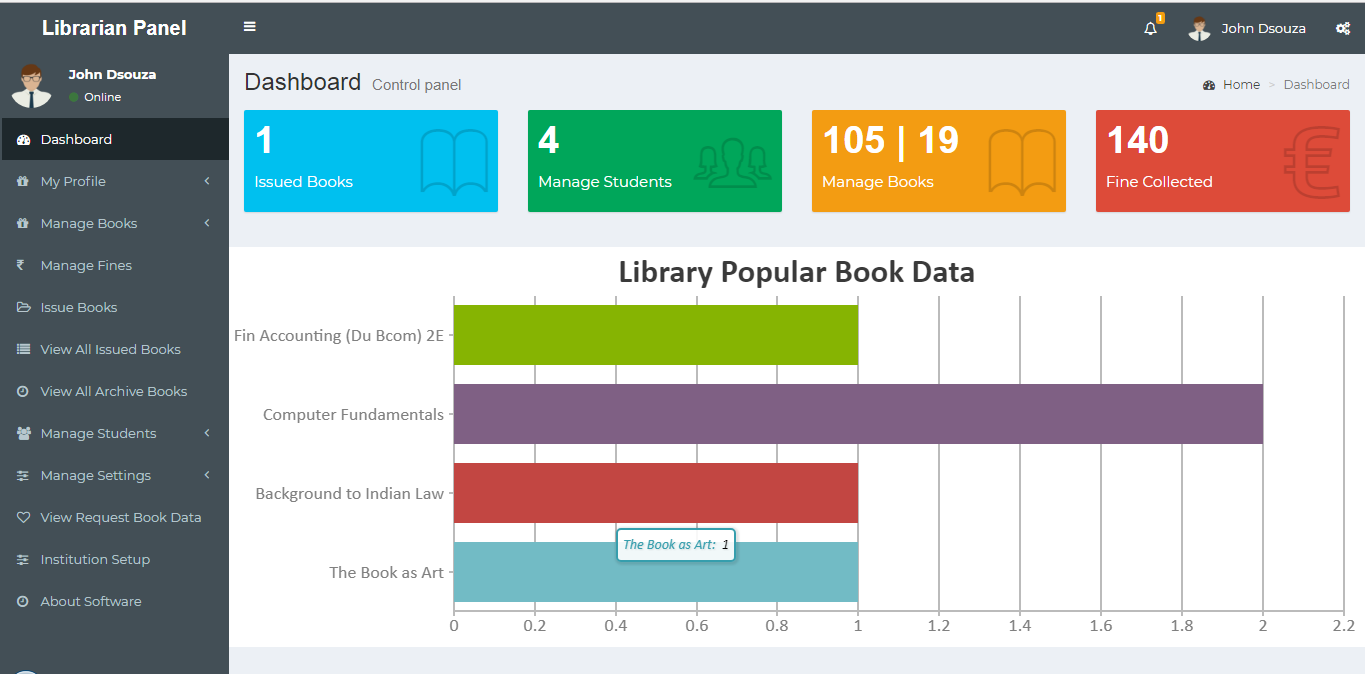 Other Settings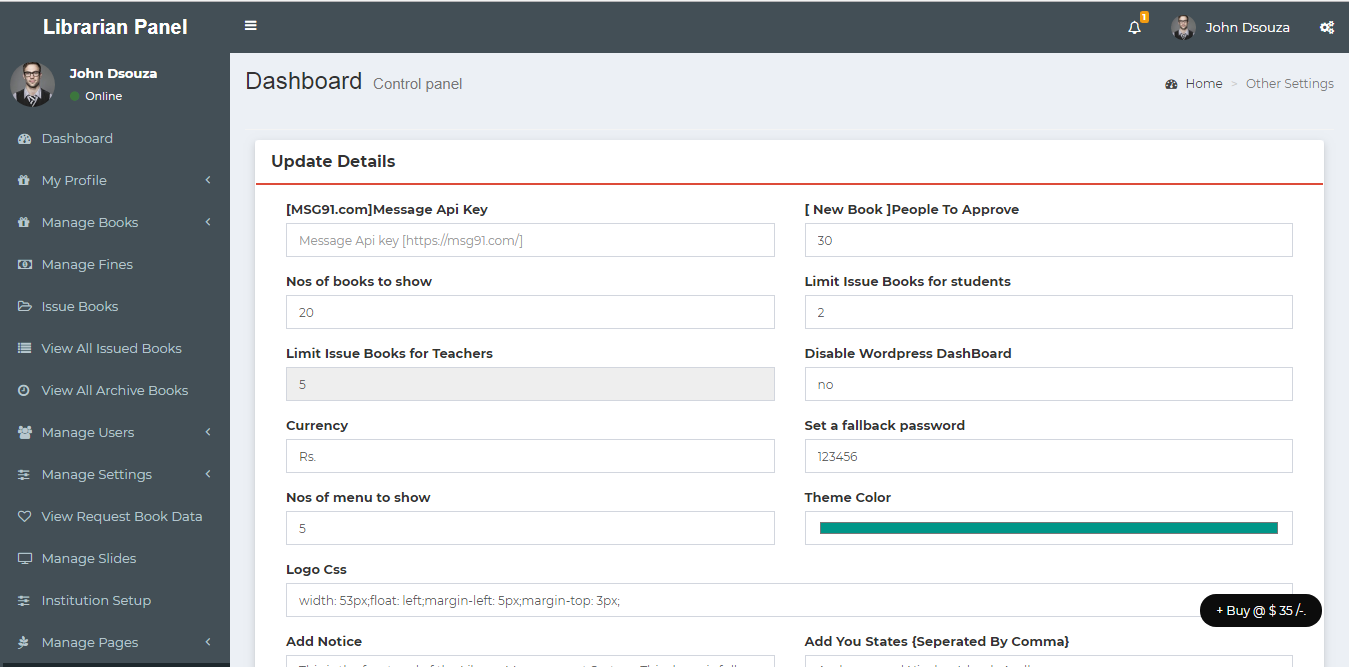 Add Books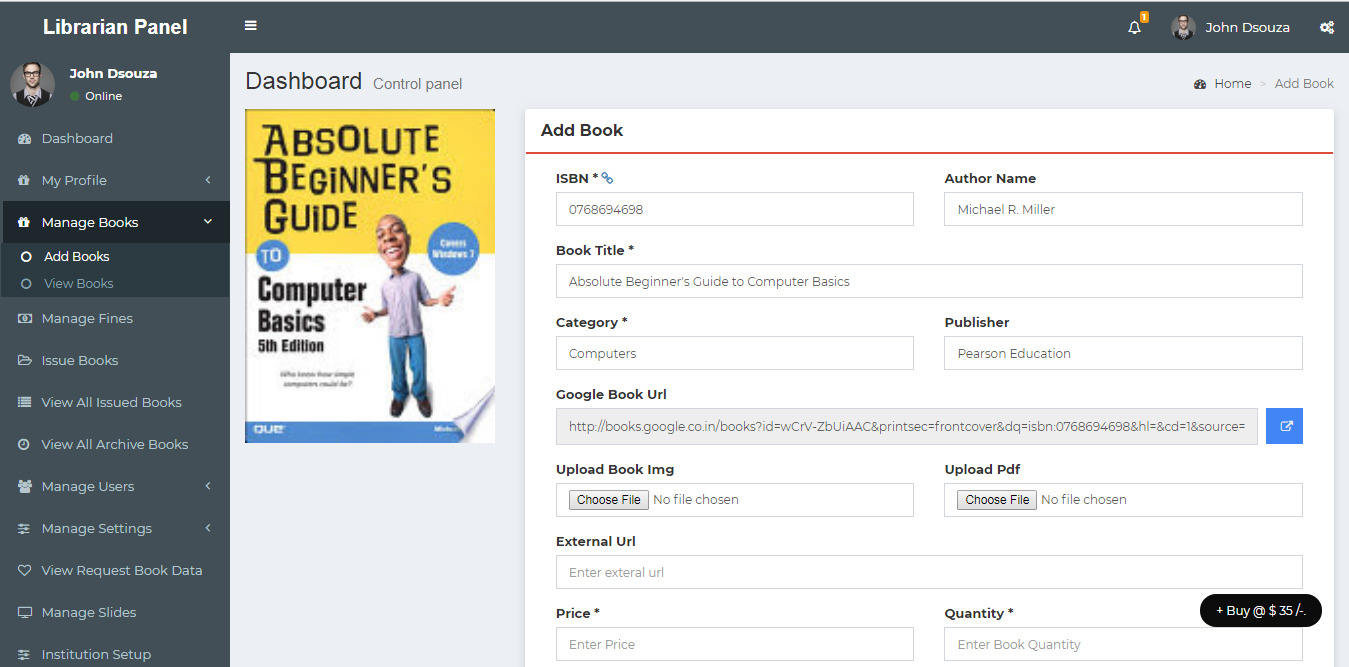 Manage Books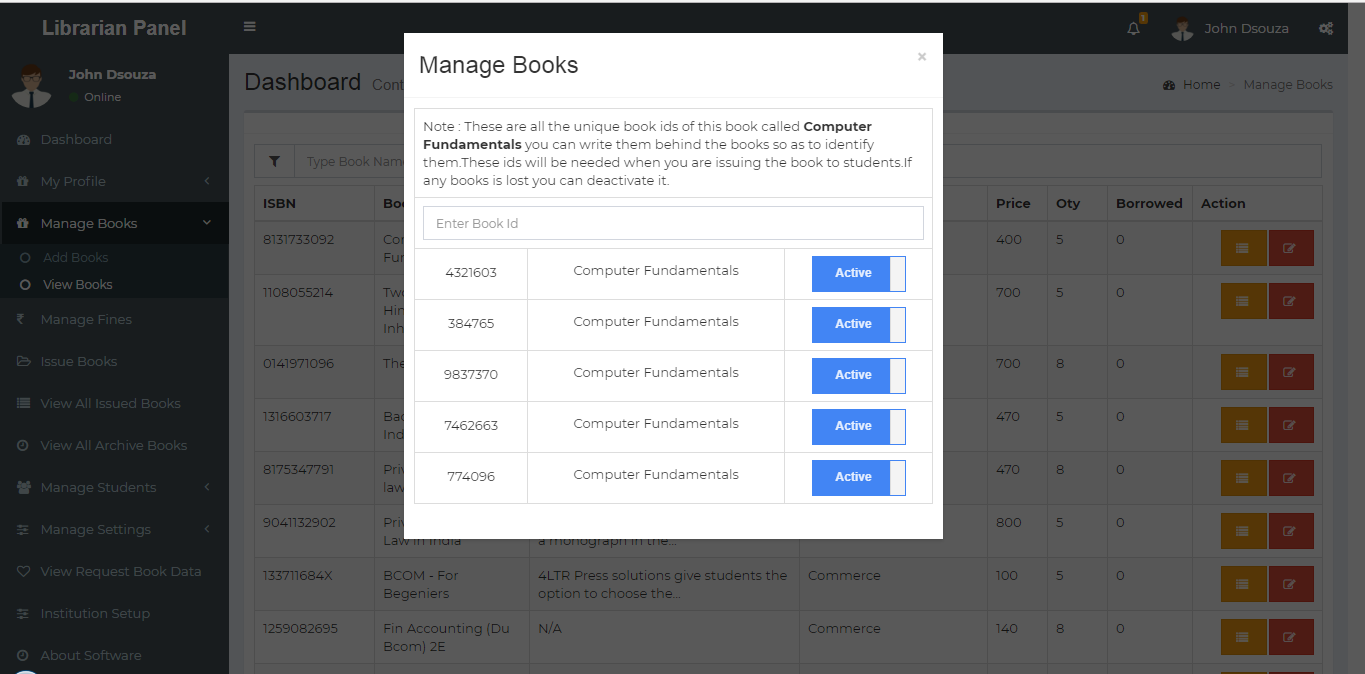 Deactivate Books (If Lost)
The numbers shown (it's the book id) needs to be written behind each books.Since its used to identify each books.No barcode feature is used since it can increase overall cost.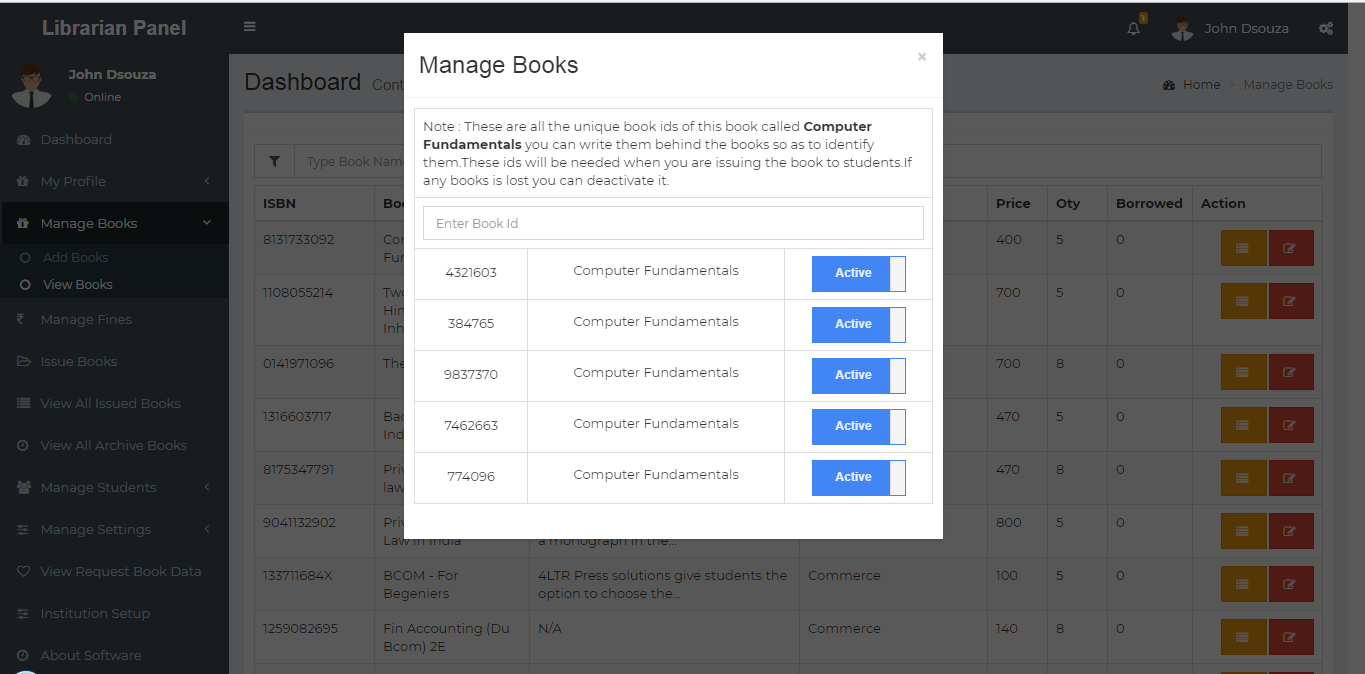 Manage Courses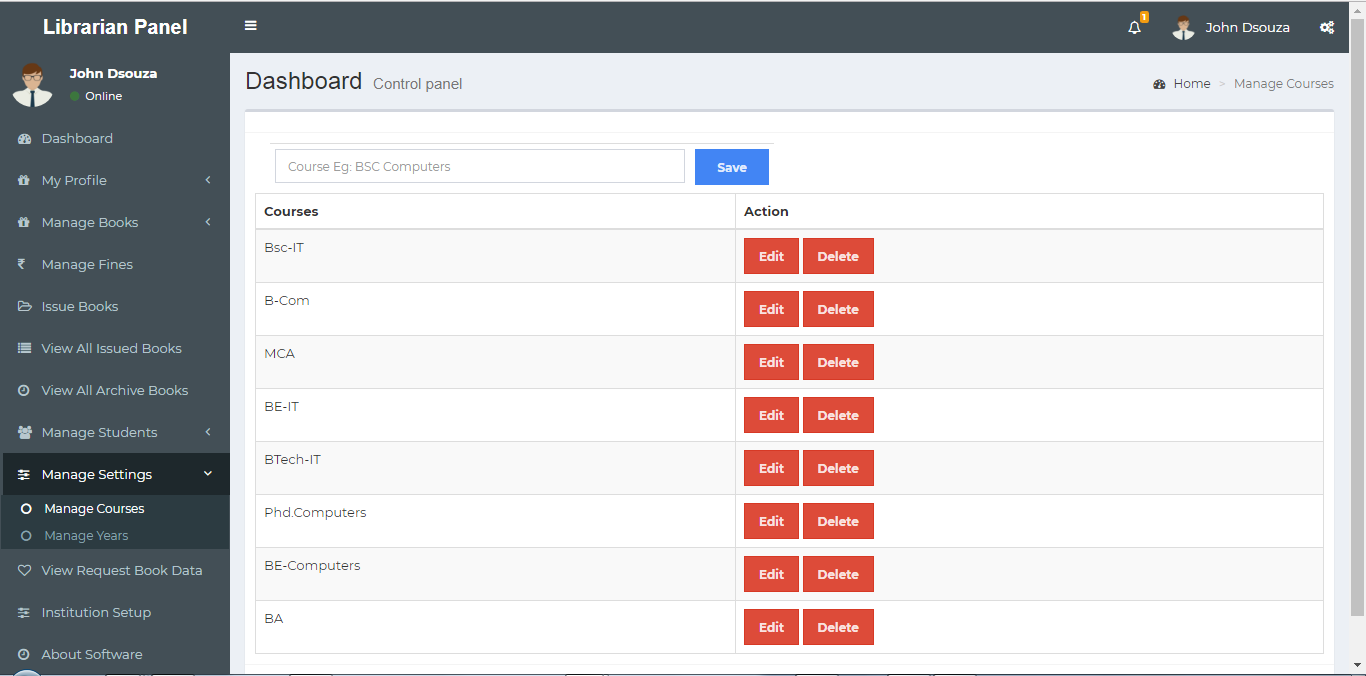 Manage Years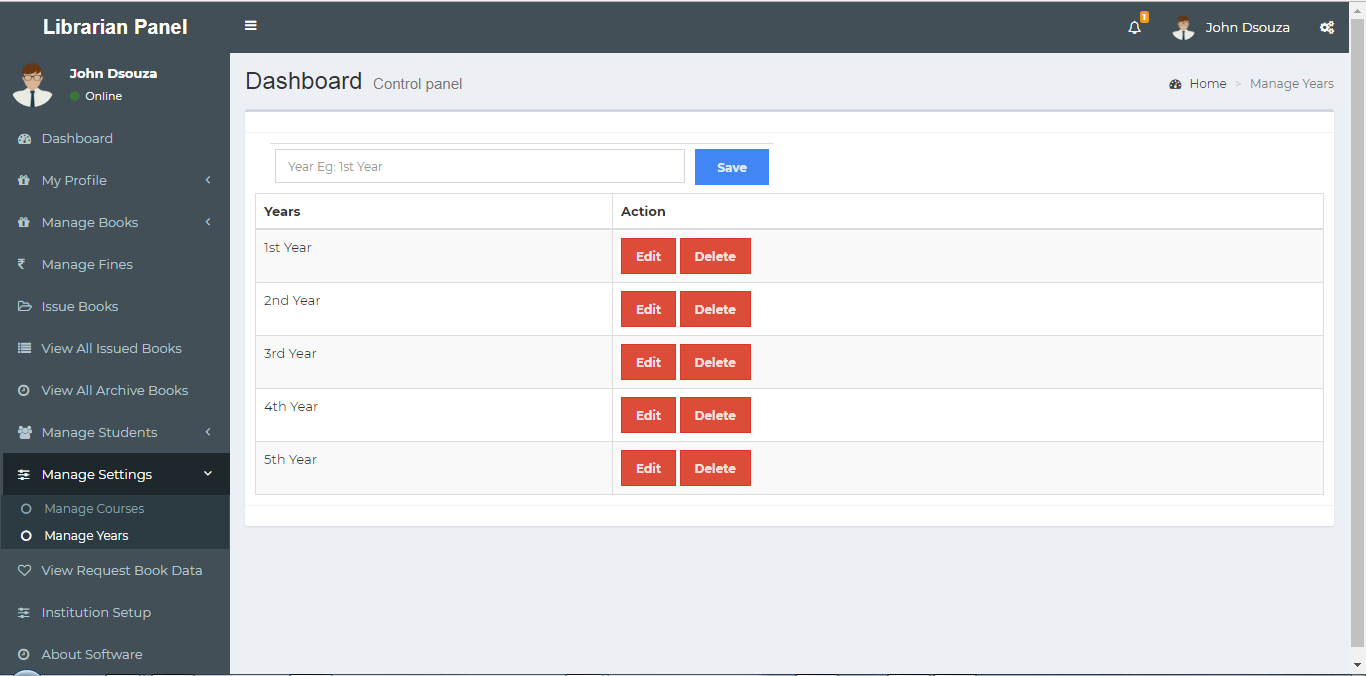 Profile Updating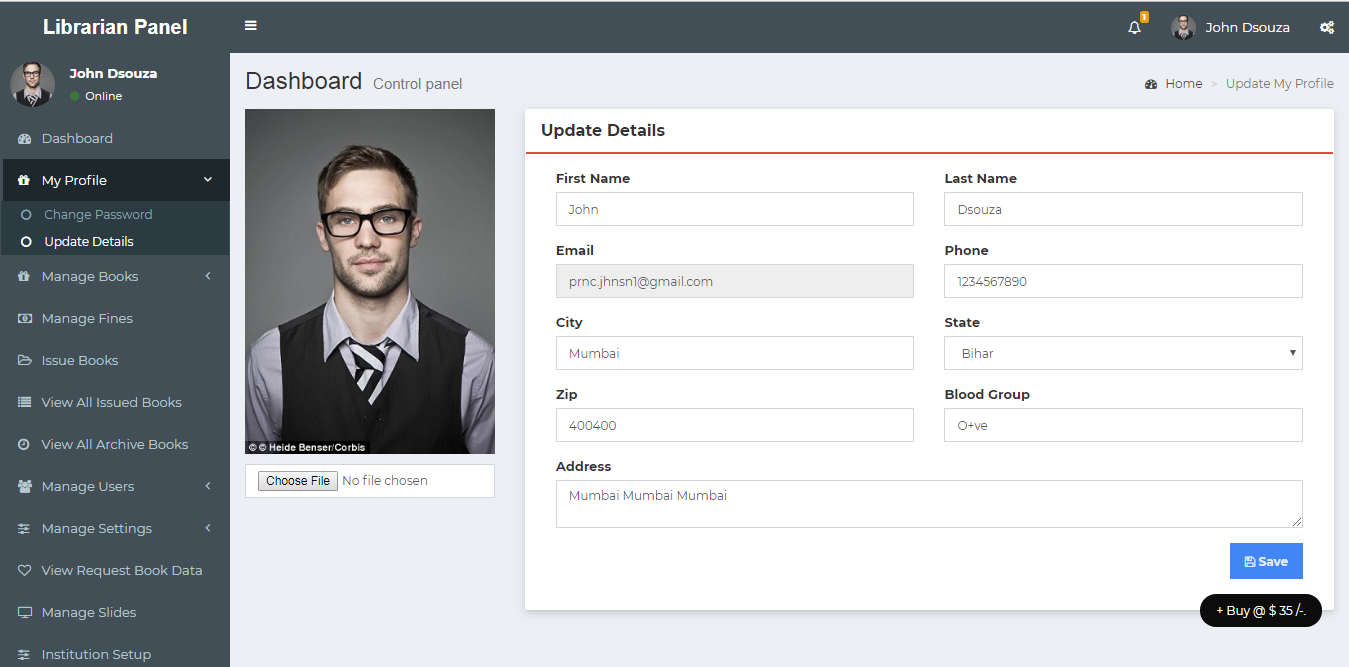 Manage Users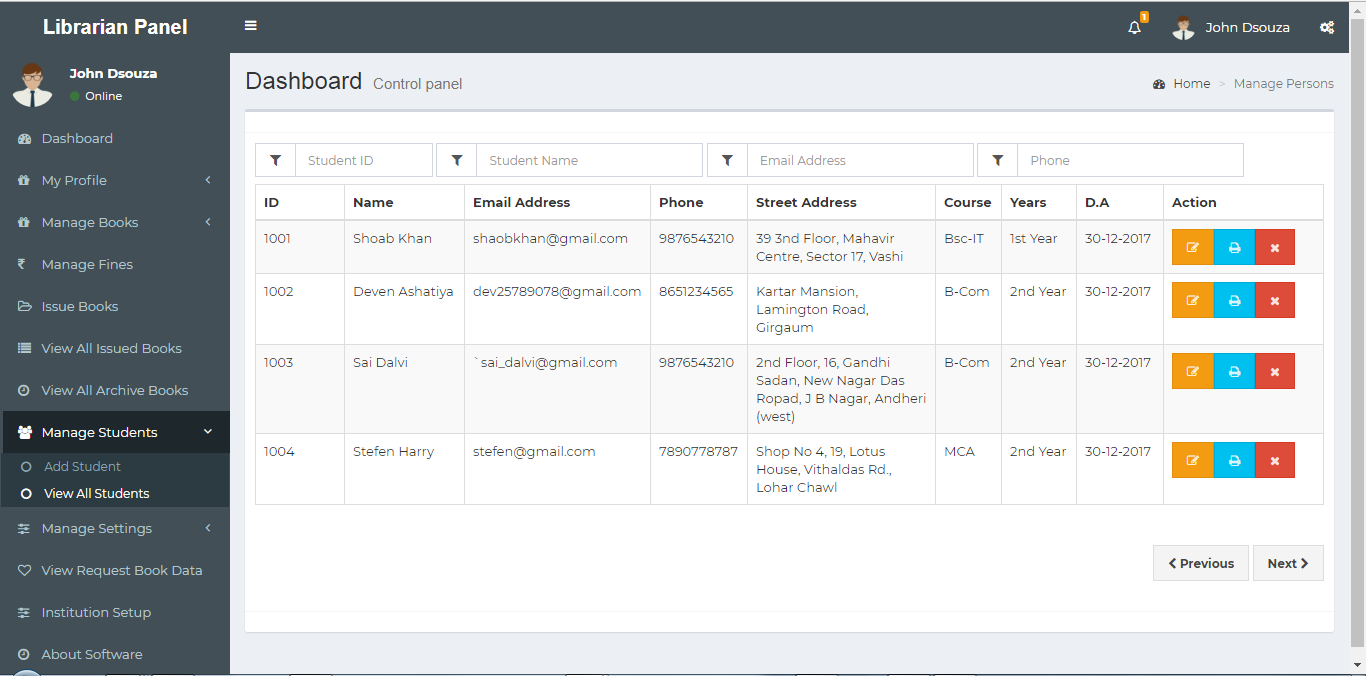 Print Library Card
Just a introvert person :D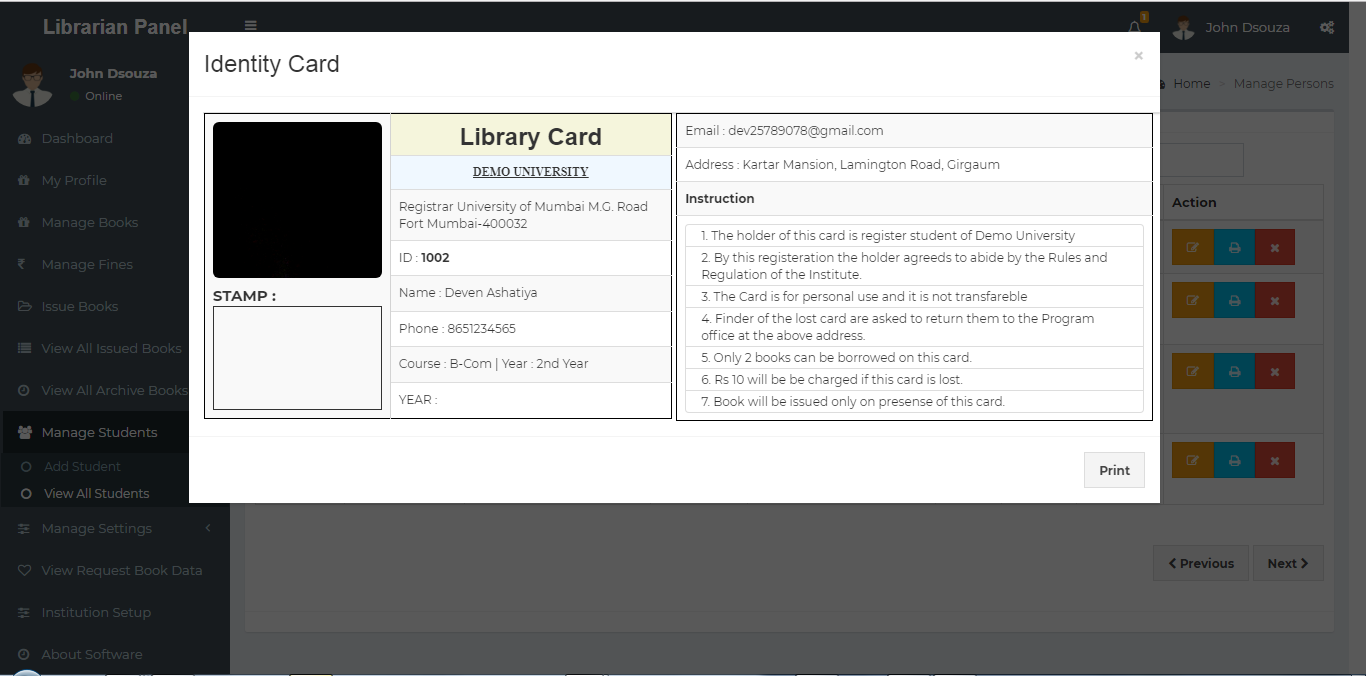 Issue Books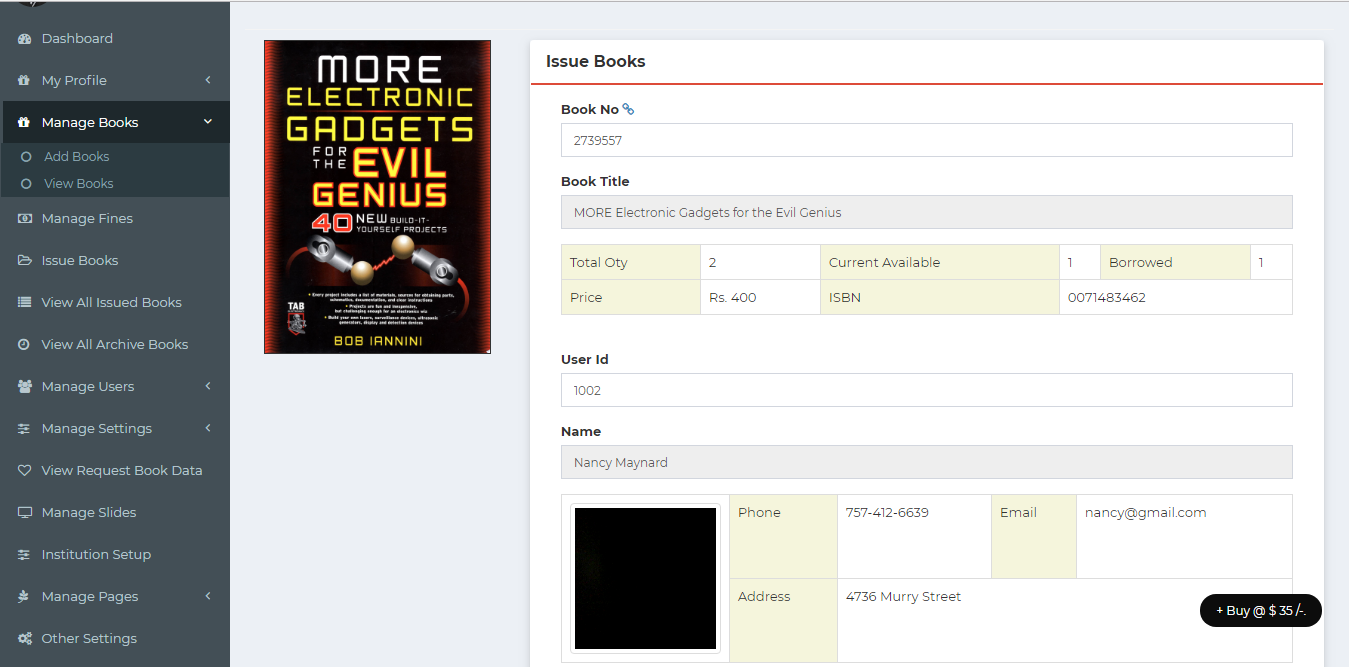 View All Issued Books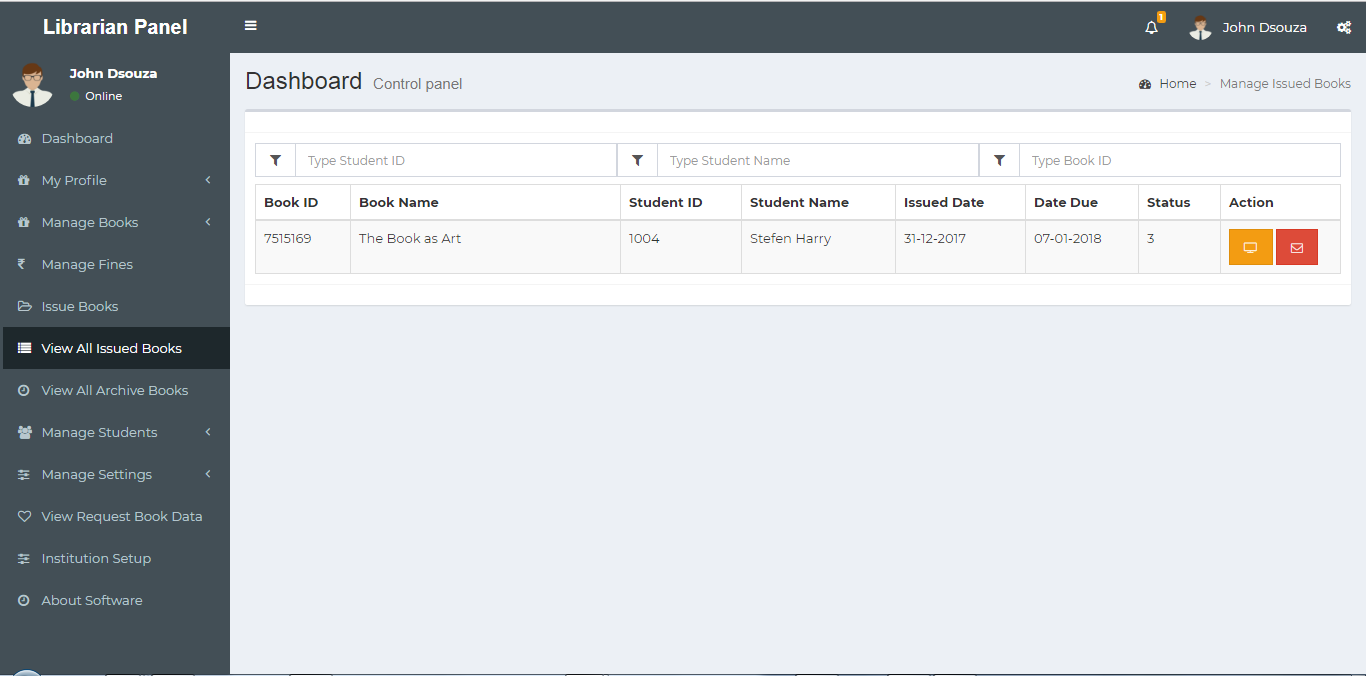 Change Password
Return Books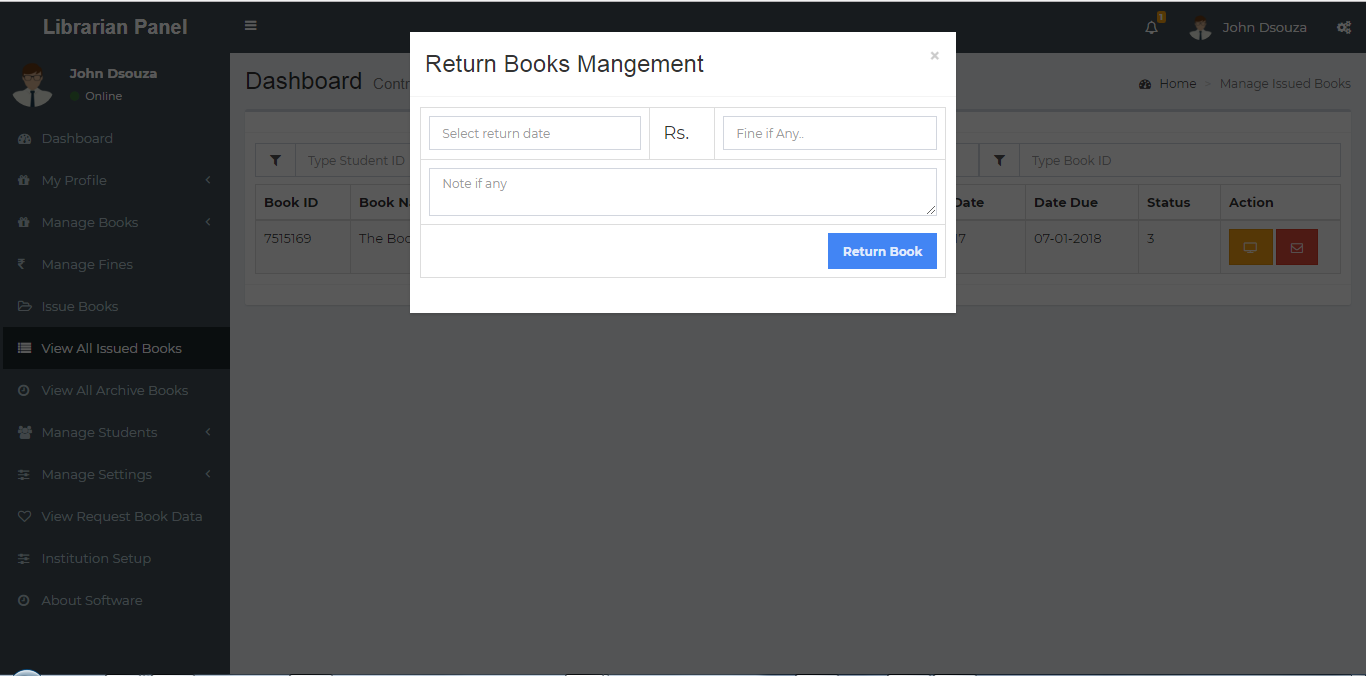 Sms Sending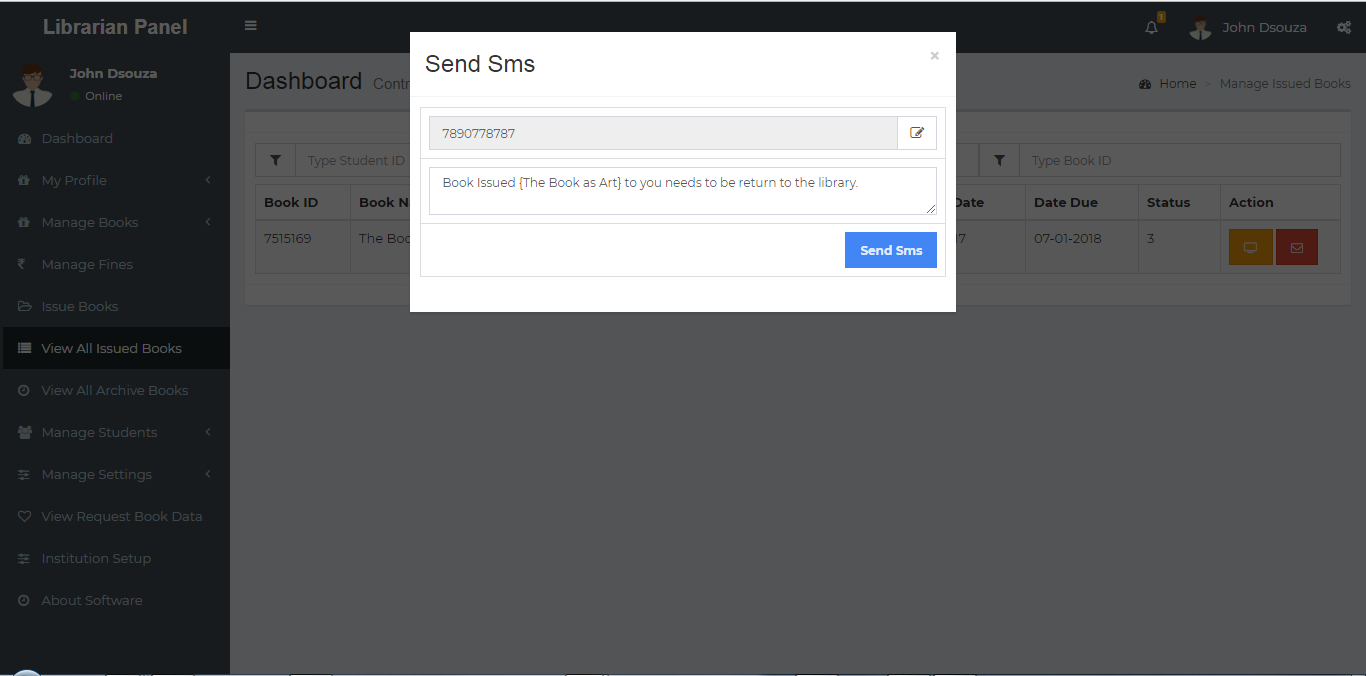 View All Archive Books Issued Records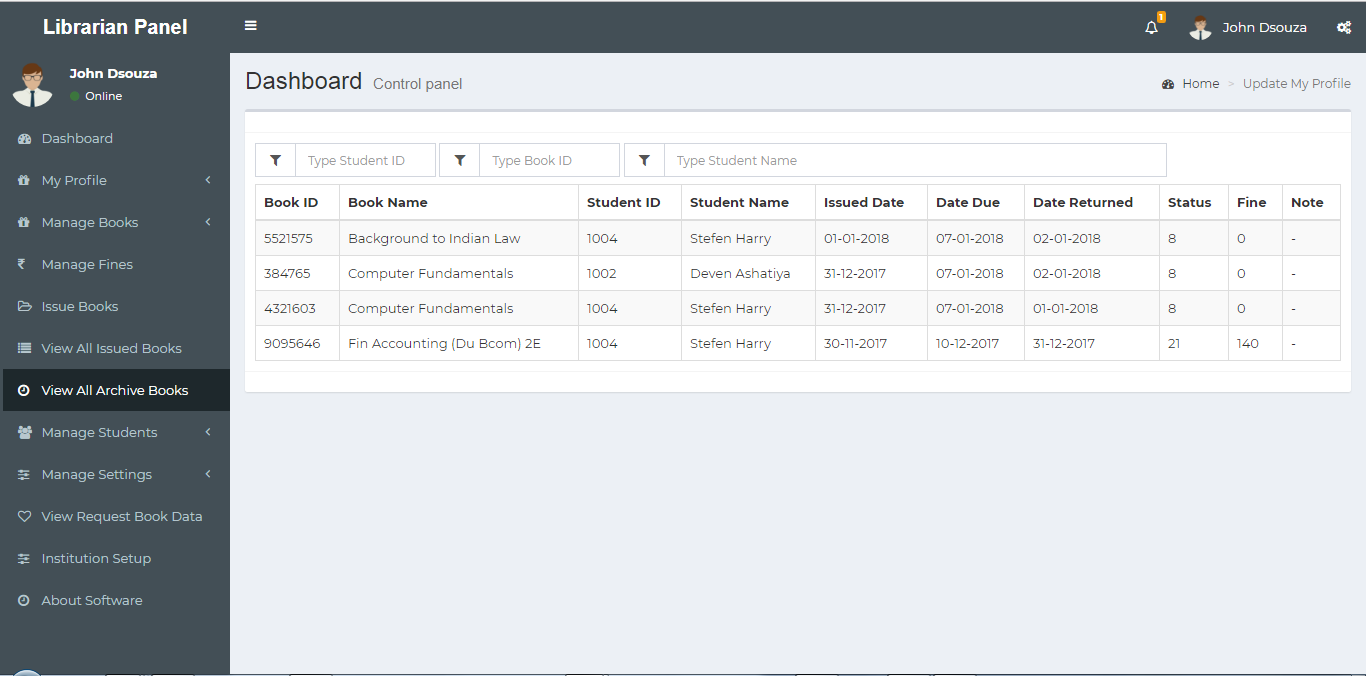 Request New Book (User Panel)
He creates a new request for the book and provide details.Other users/students can like his request if certain nos of people like this request then librarian can may be accept the request.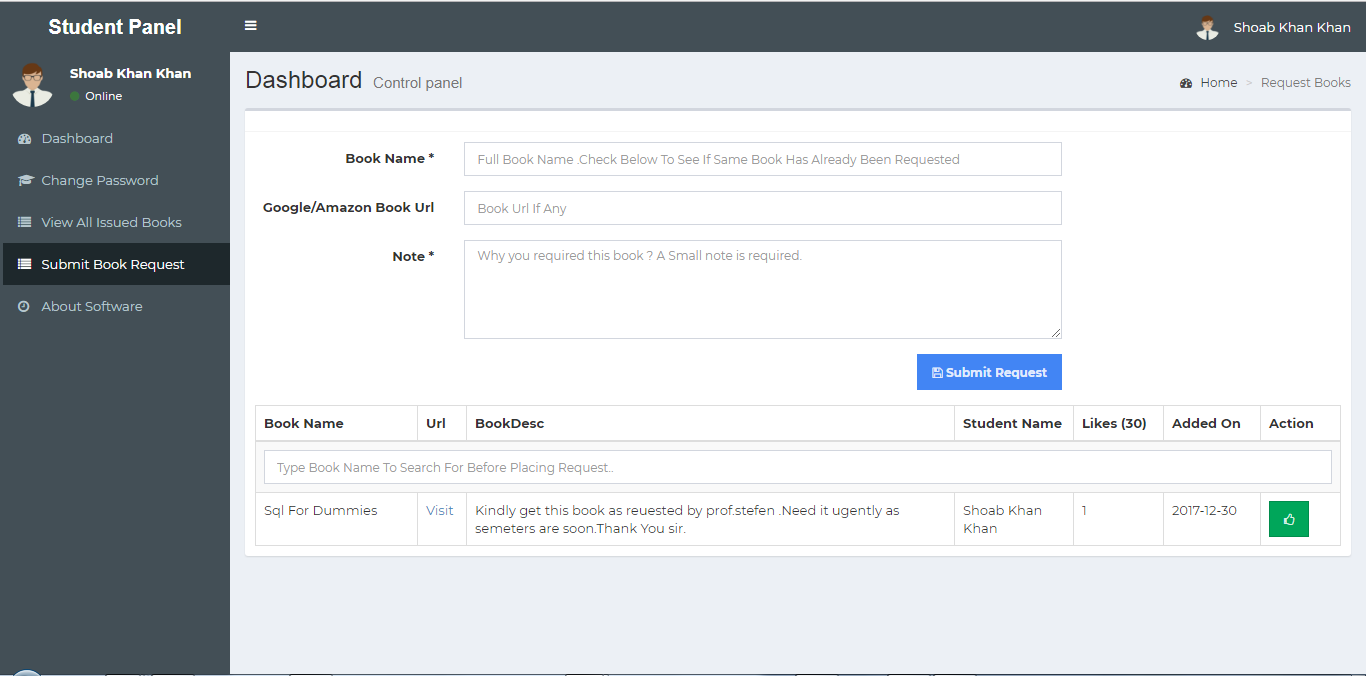 View All Requested Books (Librarian Panel)
He can either approve or dissaprove the request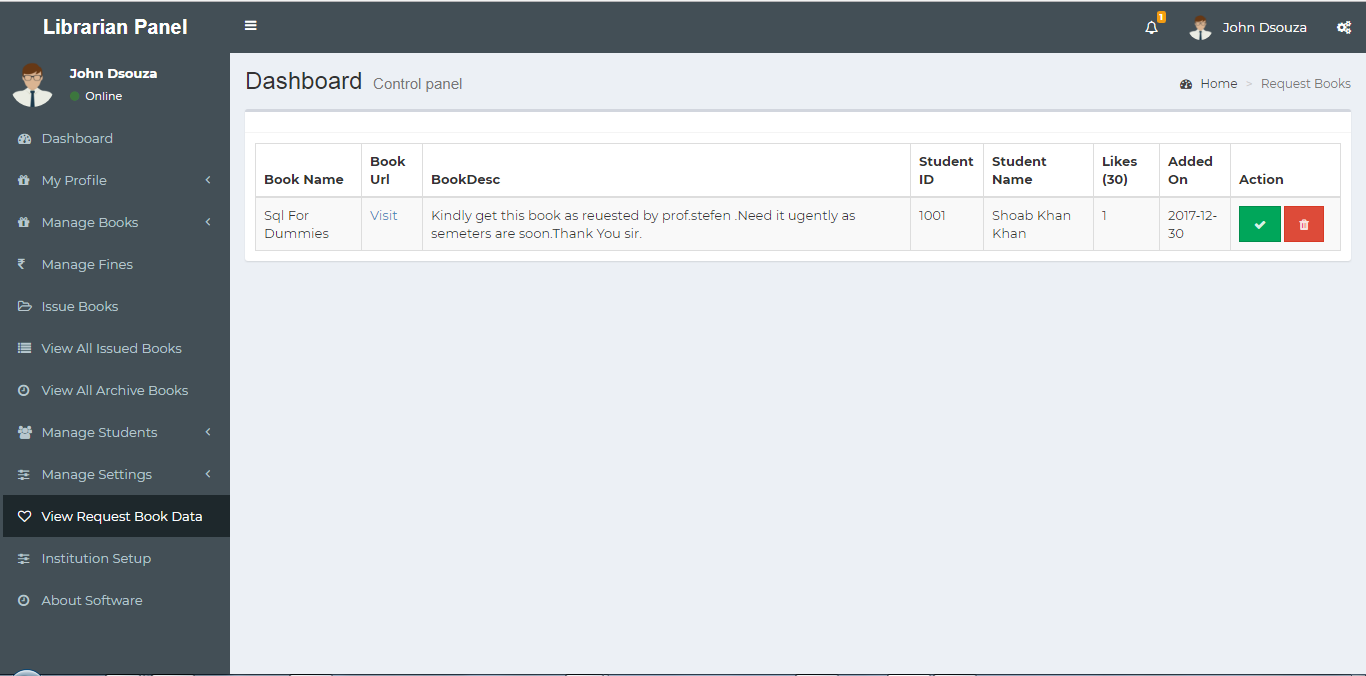 Institution Setups (Librarian Panel)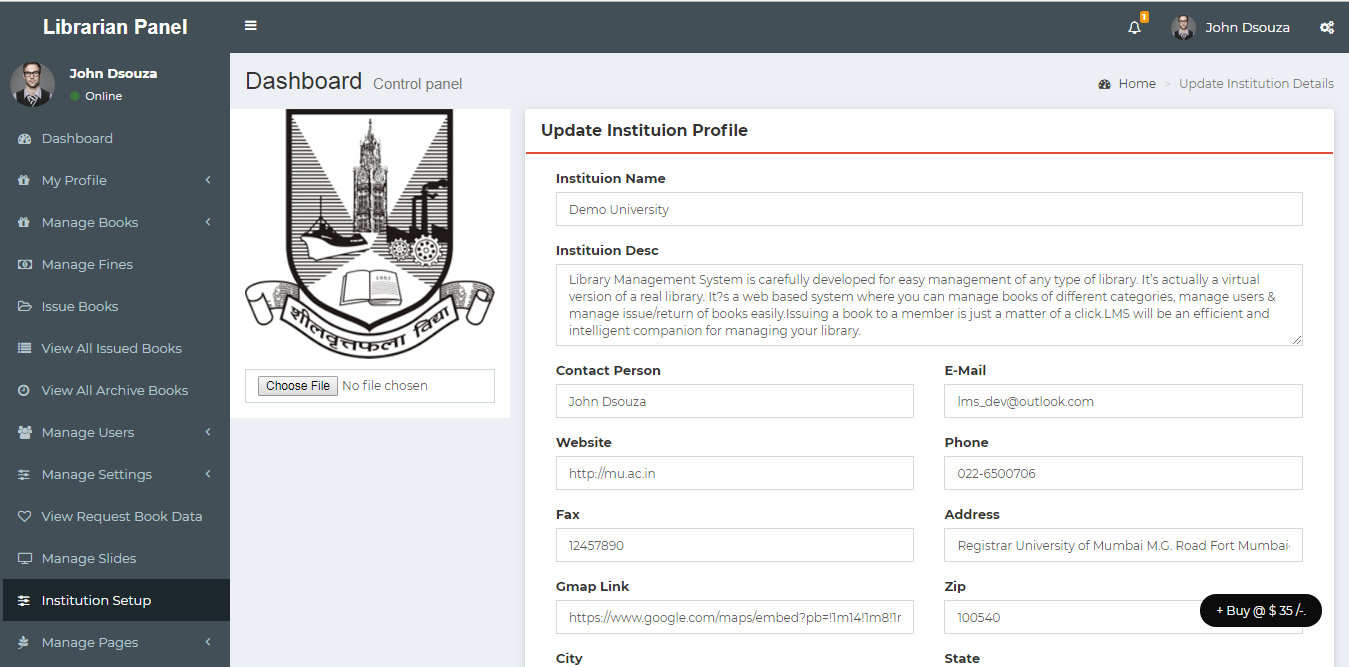 Manage Fines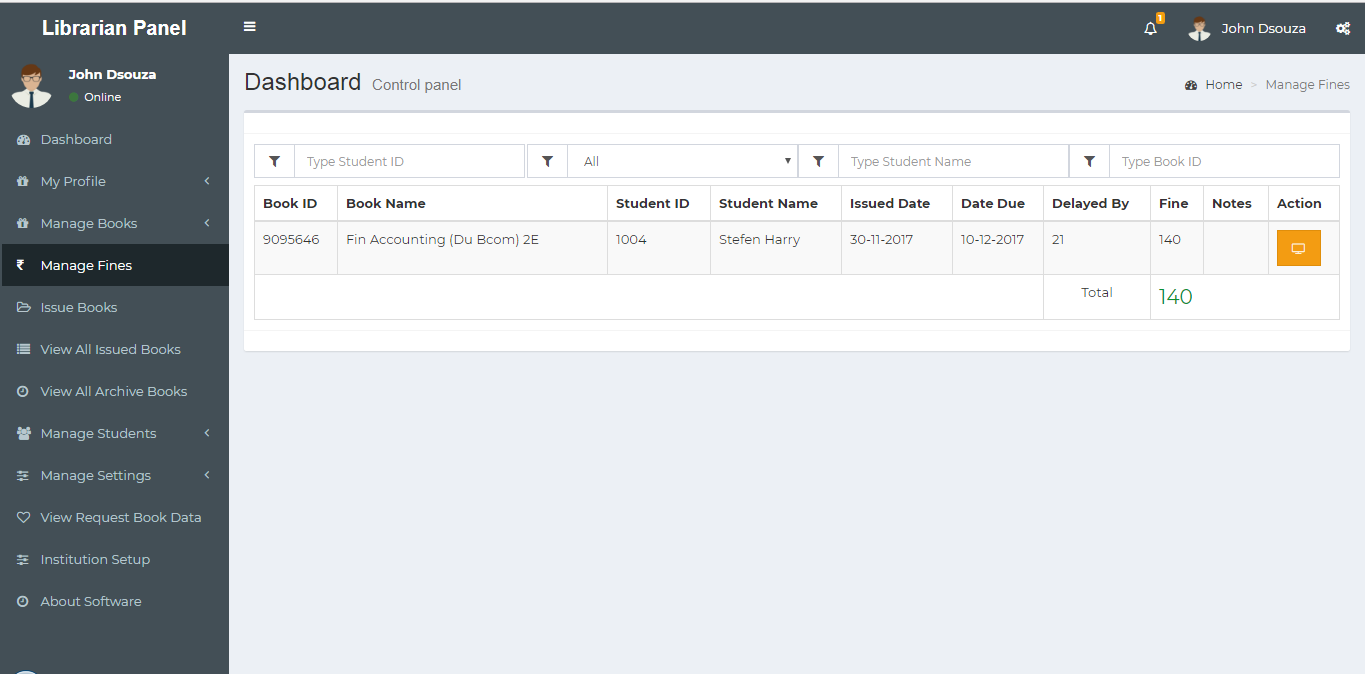 Add Custom Pages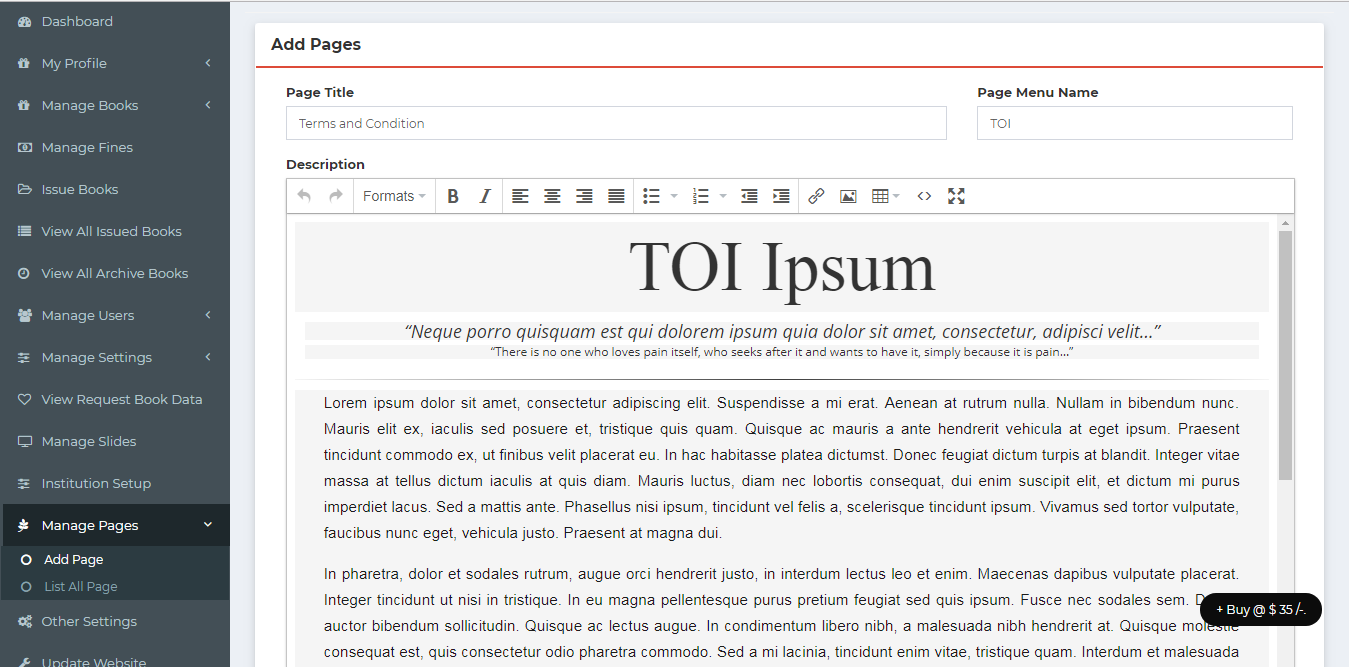 Add User
Camera module integrated into it.Default password would be the phone number.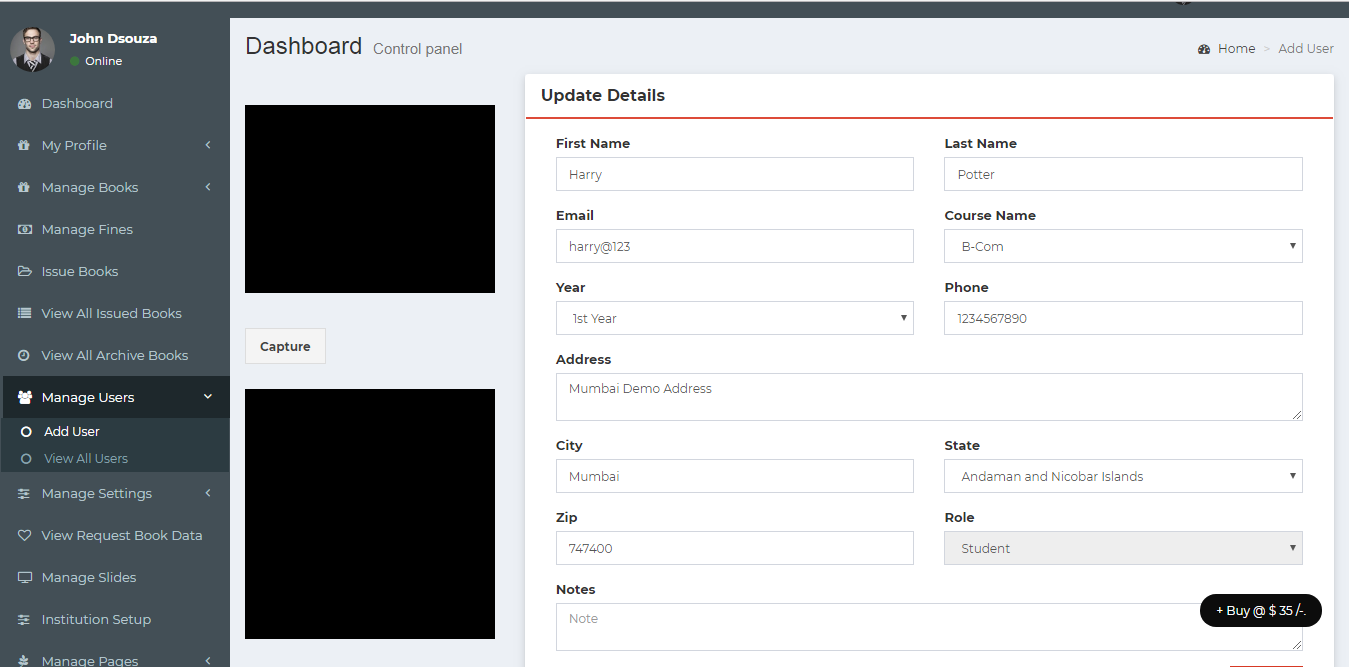 Manage Slides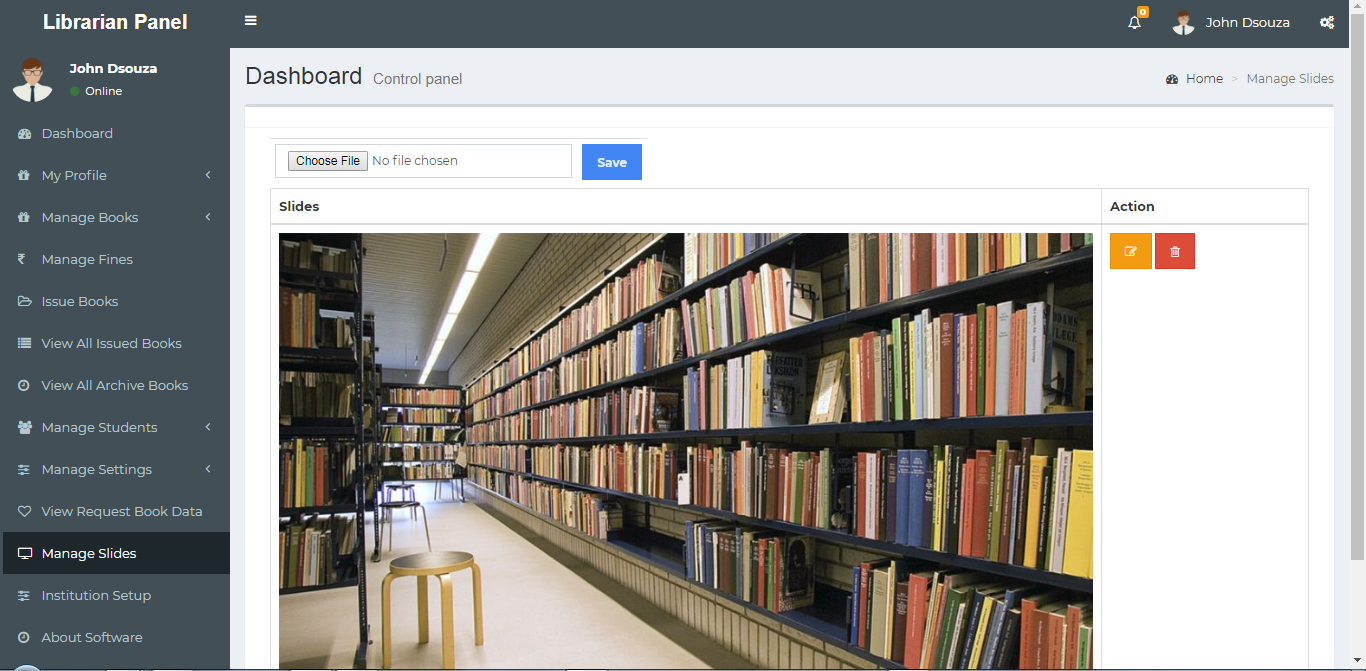 Manage Online Paid Dues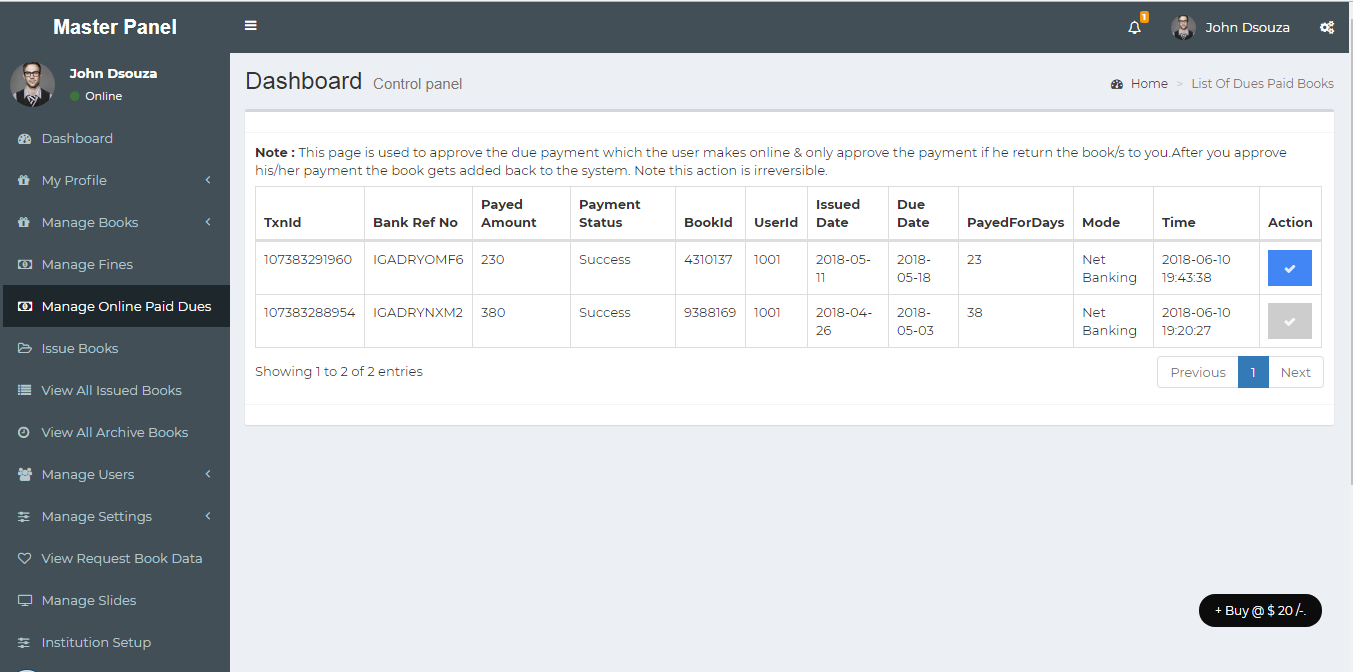 Books Issued To User (User Panel)
Here all the book that is issued to him currently is being displayed if he has delayed returning the book he is beign given an otpion to make payment.After the payment is done thought online he can submit the book within the buffer period.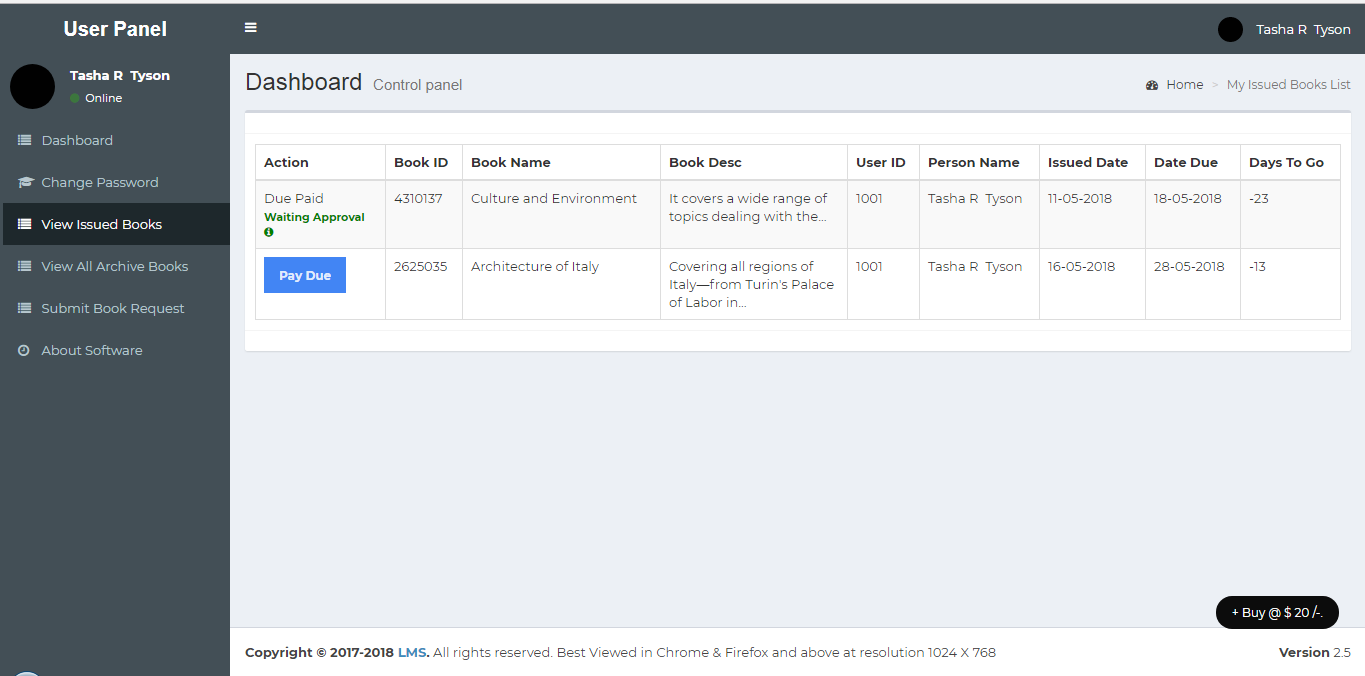 Due Payment Form (User Panel)
Here you can fill in the billing details and pay the due using the online gateway.Due is all calcuated based on the setting (per day fine) that you can find in the other setting options.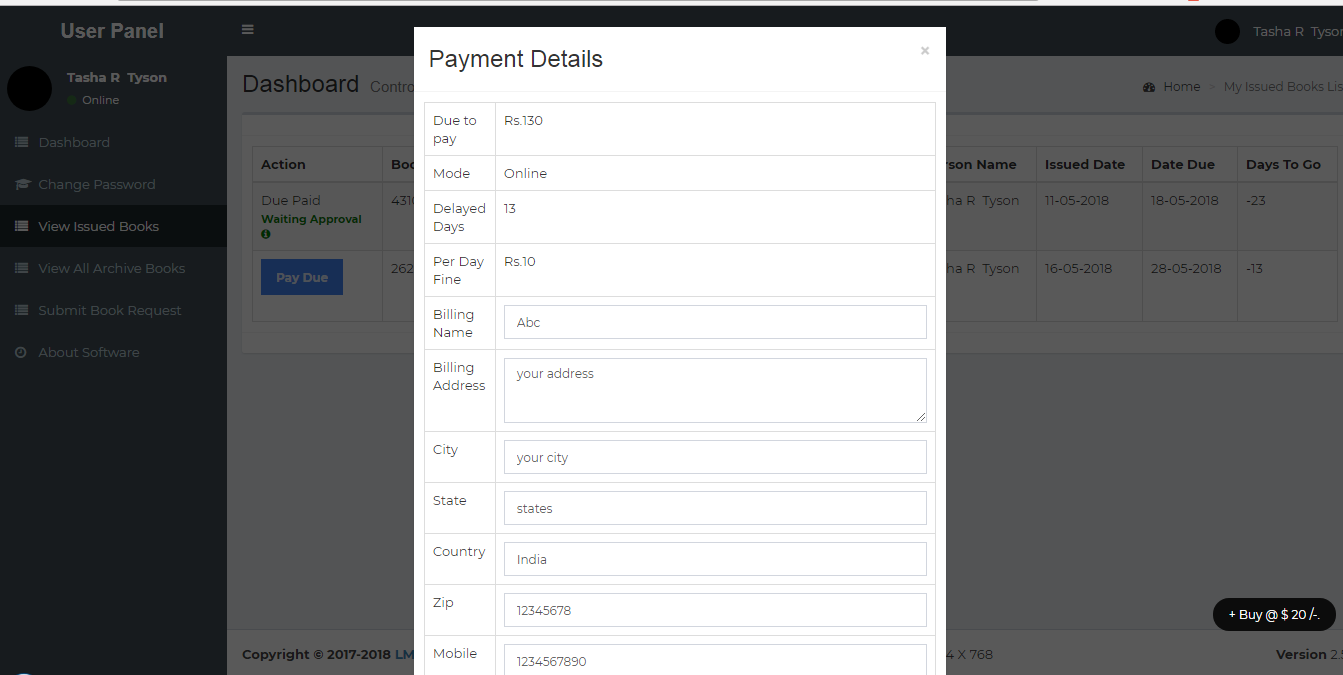 Front Page
These are all the list of books that are available in the library.If Any books goes out of stock then status (All Issued) will be shown to the students.He can also see a preview of these books via(Google Book Api)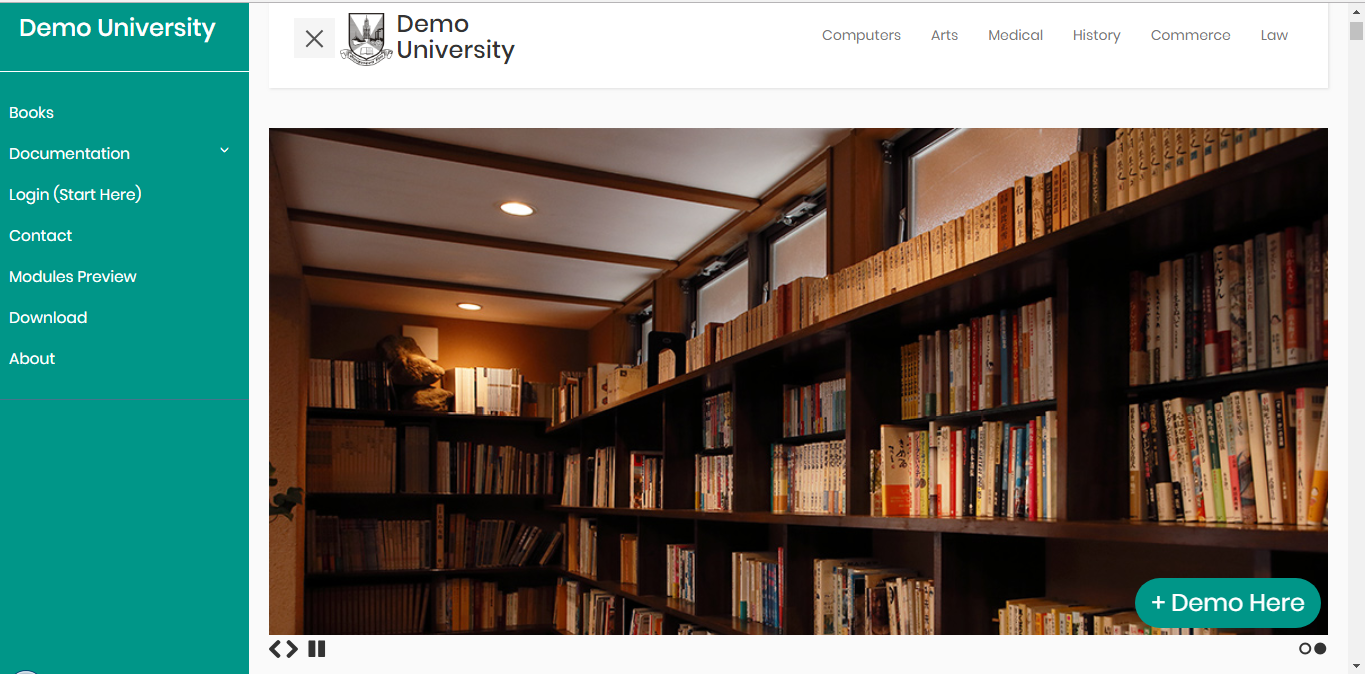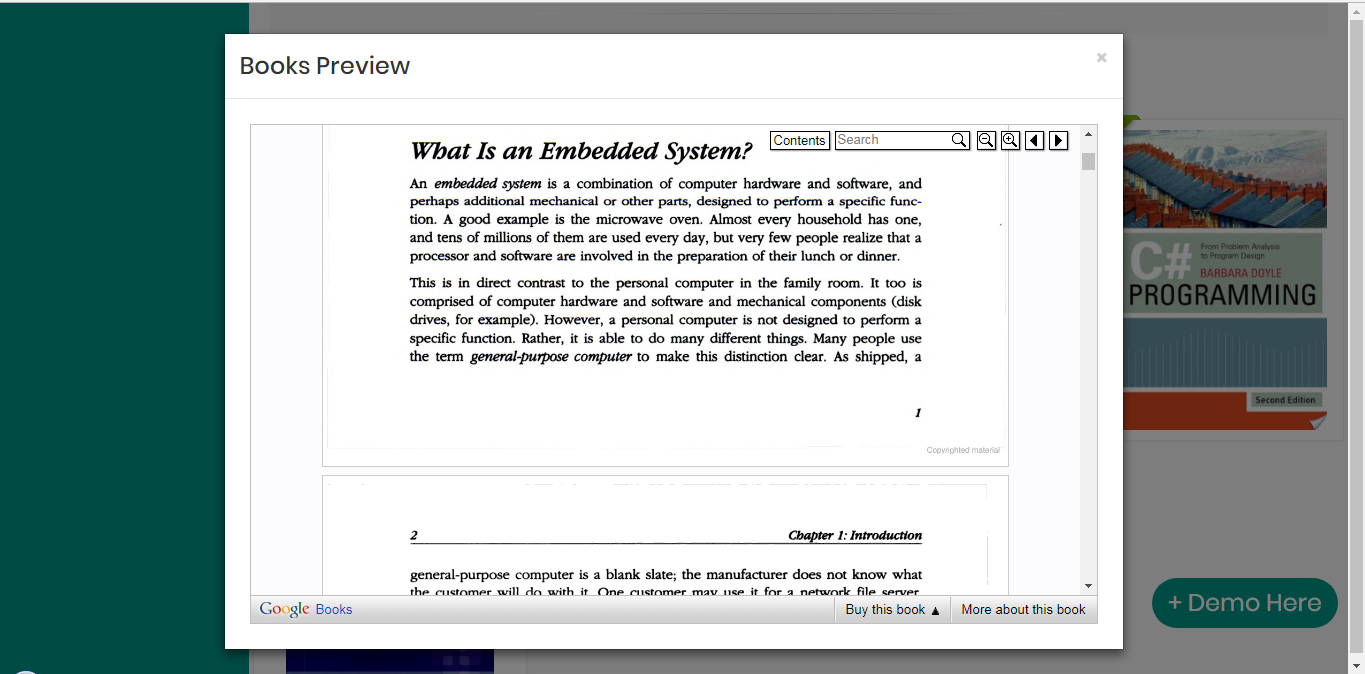 Added Custom Pages
Now you can add custom pages from our dashboard.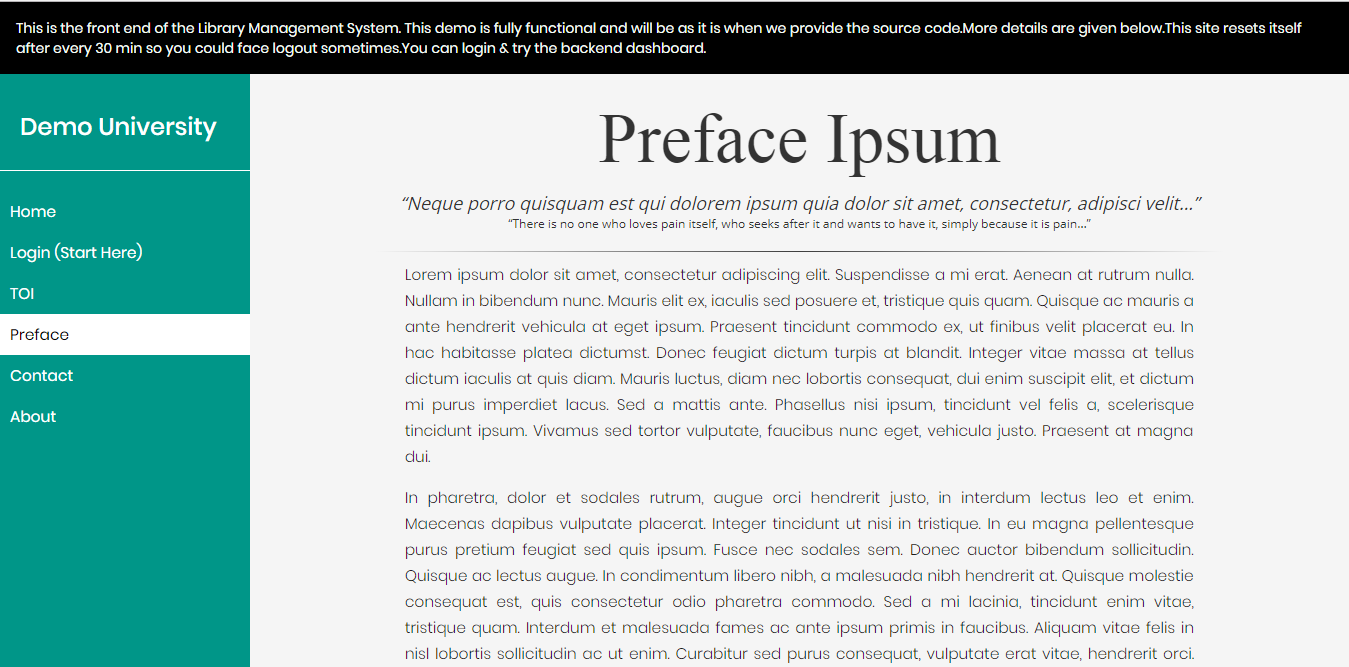 Who can use this?
Computer students with understanding of programming & having knowledge of PHP can use it for project purpose. For documentation you can visit : Reference Link .This is a reference document for creating a blackbook/presentation of your own.You can modify it and use it accordingly.Download this as a word document.
Even people with no knowledge of programming can follow the instruction to install the software and can use.
How to download?
The cost for this source code is (USD) $ 20 /- You can make the payment via Paypal or via CCAvenue
After the payment you will receive a mail containing the source code download link within a hour or two on your paypal email id Or on the email-id that you entered on Ccavenue payment page. Note : Check ur spam folder , sometimes the mails gets landed in spam folder.
if you want it to be send on a different email-id then write us on [email protected] & we would mail it to you.
.
Help / FAQ
If you need any help installing the software you can contact the developer at [email protected].